Working remotely might sound fun and in a world without pandemic COVID-19, trust me, it really is. Especially if you are working in a tech company, it's a lot easier and somewhat more productive if you could follow the golden rules.
From the experience of working in a few leading distributed tech companies, I always felt an urge to share my experience and some tips to efficiently manage the working schedule while no one was watching over your shoulder. But it didn't happen! 
I am writing this on different circumstances while an unfortunate pandemic Corona Virus is forcing many businesses to implement remote work within a very short time as a potential solution to stop the spread of the infectious disease.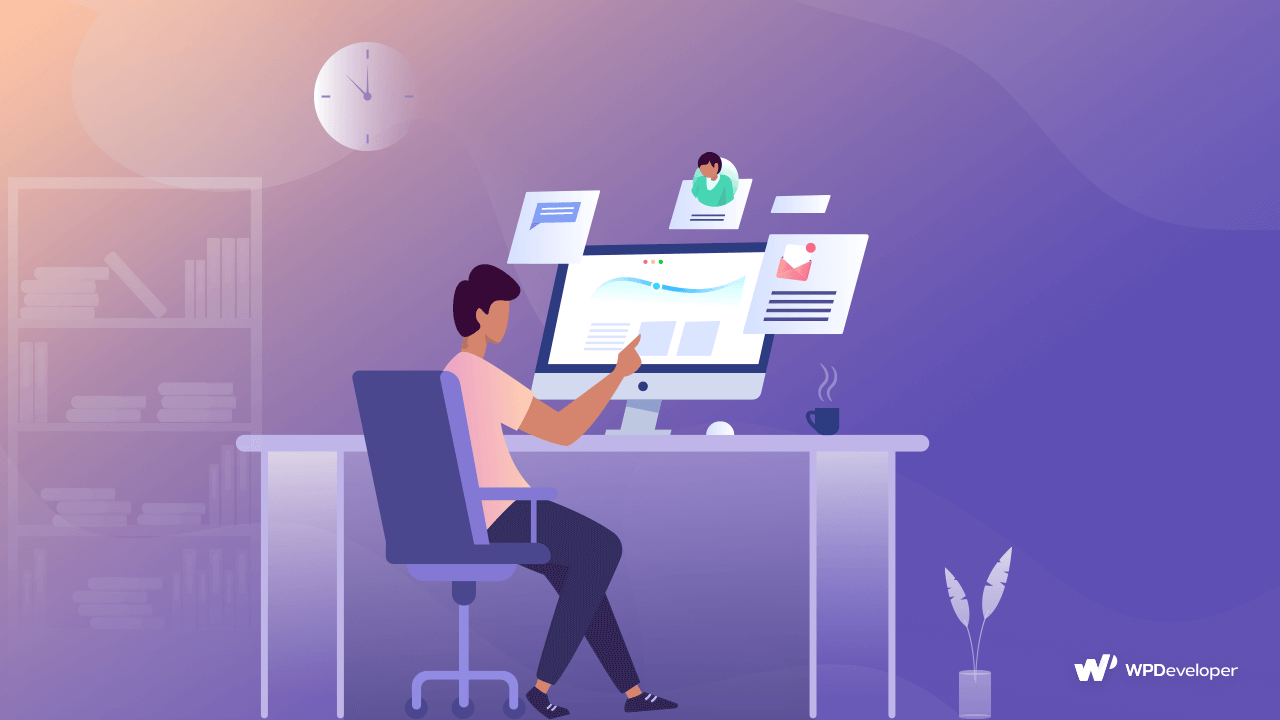 At WPDeveloper, we have also started 'work from home' for our employees to help the stem of the spread of COVID-19. To keep the world economy going, we need to prepare ourselves and help the companies to carry on their regular work schedule as much as possible. A little preparation can go a long way to make your 'work from home' adventure great. Also, it could be a life-changing experience for you and help you to be more focused, organized and self-sufficient.
It's the first thing you have to deal with. Finally, when it's time to start your first day of 'work from home', it's not simply a matter of opening your laptop and start working right away. Try to make it feel like work in the same serious manner when you work at your office, which can be quite challenging when surrounded by your family members or roommates. 
Talk to the people around you and make them understand the seriousness of your job. With their support and your right mindset, you're already halfway there.
A very important part of effective 'work from home' is preparing your workspace. You don't need to make a big investment to set your workspace, Little bit of planning and maybe moving some furniture around. In my opinion, a clean and minimal desk would do the job if you just need the laptop for your work.  
You have to decide the other factors wisely which is totally your choice. Does a window view inspire you or distract you? Do you like to be near a wall so you can put up some sticky notes?
Consider how your workspace will look and sound on an audio or video call. Will there be a lot of background noise? Especially, what will everyone else on the video call be seeing behind you? Do they see a messy room behind you or a tidy, professional background?
Well, I'll let you decide those but there are few things you should keep prepared to have an uninterrupted workspace.
One of the most critical resources is a stable internet connection, so make sure you have a good Internet connection and find out where you get the best Wi-Fi reception in your home. In case of Internet or power failure, you should keep a backup Internet connection. Keeping enough 4G data should be fine if your connection is reliable. 
Make sure your laptop and mobile devices are fully charged overnight in case you face any power failure. You might often need to attend video calls, so keep your headphones, microphones, and camera well tested beforehand to avoid inconvenience when you attend the calls. 
You should keep stock of chocolates and healthy snacks which might help you to reduce stress, improve focus and productivity. Avoid unhealthy snacks which might lead you to obesity. Dark chocolates and mixed nuts could be good options. Drink enough water and keep the tea/coffee handy so you don't waste much time preparing them. 
Maintain a Regular Routine During COVID-19
If you spend most of your time at the office and just starting working remotely, there's a tendency to treat your remote working days as special. They aren't. They're still workdays and your teammates are possibly depending on you. So wake up at your regular time and go through your usual morning routine just like you would on any other workday.
We have lots of morning habits when we wake up, all of which help get us into the mindset that it's time to start working. Our brain knows the next thing after brushing our teeth, getting dressed, taking breakfast and so on. So if you treat your morning like a weekend or holiday, you'll have a much harder time getting into gear. Freshen up, change your nightdress and wear a fresh and comfy dress to start your work. 
You don't have to wear formal, but dressing like you go to the office, even a little, will remind you that you're in work-mode now. When you're going to join video calls, you will be doing this to give the right professional impression to your teammates or potential customers.
Finally, try to start and finish each working day at around your usual time. Sticking to your regular work schedule will make it feel like work.
Communication is the key to efficient remote work when you need to collaborate with your team. Since no one watching over your shoulder, make sure you follow the proper communication channel to connect with your teammates and update your reporting head properly. Make use of the right tools to get yourself organized and productive. 
Look After Your Physical And Mental Health
Watch your physical health. Stand once an hour. Do some stretches and walk around a bit, even a short walk, has been proven to boost your creativity and mood. 
Working from home for a long time could be quite stressful but you can fight it. If you work at home with your family or loved ones, spend time with them and get an emotional recharge and inspiration after you finish your shift. Call them regularly if they don't live with you.
And finally, after you're done working for the day, take a break from screen time and unwind for the evening. During this COVID-19, you might be avoiding going out, so consider reading a book instead of watching TV as you already spent a fair amount of time staring at your laptop.
Although this pandemic COVID-19 means many of us are working from home for an unfortunate reason, we could use the opportunity to be more familiar with remote work which is becoming more and more the norm for tech companies. The experience of 'work from home' might be more rewarding and productive, and prepare you for that future of work. 
Let's keep ourselves truly isolated for a while for the sake of our family and community and continue our regular work from home to support the economy for a better and brighter future we are hoping for.